This year's Thanksgiving was a quiet celebration–just me and Larry–at the luxurious Grand America Hotel.
We checked in the night before and were treated to this stunning sunset outside our window.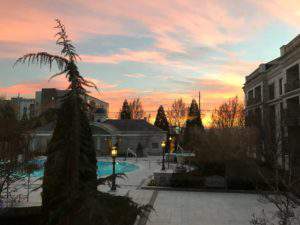 Thanksgiving morning started with a light breakfast, beautifully served in our room.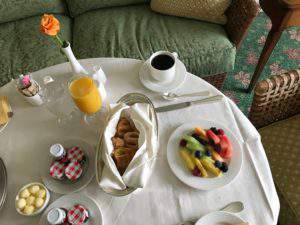 Then we played Yahtzee while we watched the Macy's Thanksgiving Day Parade on television. I was especially grateful, since I rolled a Yahtzee early on and went on to win! (Note the worn out Yahtzee board. I guess we've played a few times. :-))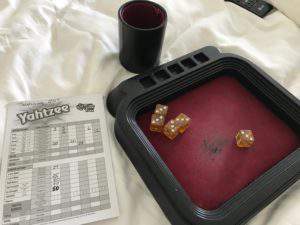 After the parade, we watched the National Dog Show, which has become a Thanksgiving Day tradition for us. This cutie did not take Best of Show, but was definitely one of my favorites.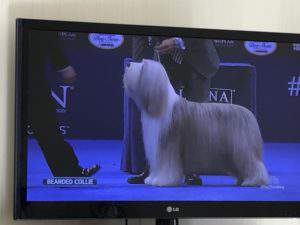 We chose to have Thanksgiving dinner in our room and avoid the crowds. The hotel called to tell us they were running late and would give us a 20-percent discount. Late turned out to be 10 minutes. I'll take a 2-percent per minute discount any day! We went with the traditional roasted turkey, stuffing, and potatoes.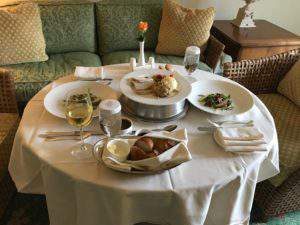 Followed by a not-so-traditional, but delicious, dessert.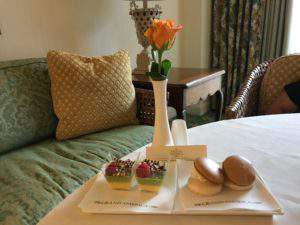 That evening, we were finally ready to venture out of our room and went all the way downstairs 🙂 to get a cup of coffee and look at the hotel's Christmas windows.
That was our Thanksgiving. I hope yours was just as wonderful, however you chose to spend it. I'd love to hear all about it. Please take a minute to share in a comment below.
As far as what I'm thankful for, there are so many things. One of them is that Sue at Sizzling Toward Sixty invited me to participate in her Blogging Grandmothers Talk Gratitude post. Please take a look.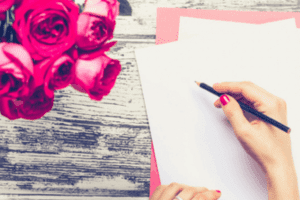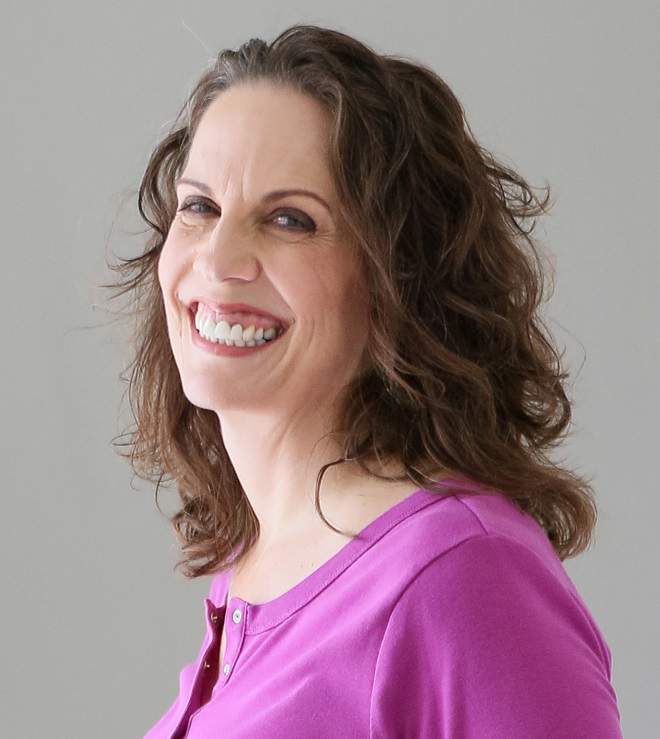 Christie is an author and professional communicator who blogs about life transitions, wellness, mindfulness, and anything else that answers the question "So what? Now what?"