There's nothing like the feeling of finding the perfect gift for someone and few things as frustrating as trying to think of something special and coming up empty. So today I am stepping into the mindset of the receiver and thinking about those gifts I've received that were particularly memorable—as inspiration for giving better gifts.
Personal/personalized gifts: I love a gift that was obviously carefully chosen (or made) with me in mind.
Each year, one of our daughters makes a family calendar, featuring the grandchildren, with guest appearances from the parents and the dogs. We look forward to the new calendar with the same anticipation the little ones have waiting for Santa's visit. We've saved all of the calendars, going back eight years, and occasionally pull them out and compare the children's growth from year-to-year. There's even a competition of sorts to see who can make the cover.
Other gifts that come to mind in this category are those related to our cabin. Larry and I love going to Hawkes Landing; it's our happy place. We've received several gifts over the years featuring Hawkes Landing, and they are all prominently displayed there. I smile and think warmly of the givers whenever I see them.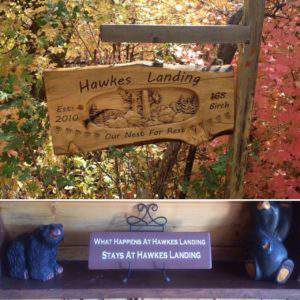 Experience gifts: Many studies have shown that material possessions do not equal happiness and that experiences are much more fulfilling than things, and I couldn't agree more.
For my 50th birthday, Larry took me on a trip to France. Who wouldn't love that? It was especially thoughtful, because I had always wanted to see France. I studied French in high school and college, and going there was on my bucket list. The memories bring me joy to this day. Running through the streets of Paris in the pouring rain (just like a 1950s romance movie); being moved to tears on the beaches of Normandy; standing in castles and cathedrals that were built thousands of years ago and strolling through their beautiful gardens; tasting wine in a family-run French vineyard; eating freshly baked bread on a bench in a little fishing village. (I could write a whole blog just on that trip!)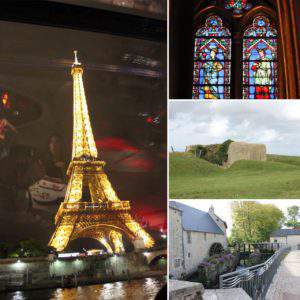 But you don't have to spend a small fortune to give an experience gift. Larry and I also gave ourselves season tickets to Desert Star one year, and we enjoyed the regular date nights so much, we've purchased season tickets every year since.
Bonus—when you give an experience gift, you get to have the experience too! What could be better than being the giver and the receiver!
Gifts that keep on giving: Some gifts bring you joy in the moment, but also represent something more—a new hobby, a new friendship, or even a new life.
Eighteen years ago, Larry gave me a wedding ring as a gift. The rest is history. We've been happily married ever since.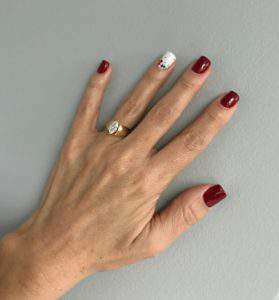 Okay, maybe you're not ready to propose (or you're already married), but you can give a gift that will enrich someone's life. I've received books that lead to new hobbies or strengthened existing ones—books on photography, meditation, France. I've also received items to support an existing habit—running shoes, iPod, GPS watch.
A couple of years ago, my sister gave me a gift certificate to get my nails done. She may have thought that was a simple gift that I would enjoy in the moment, but I ended up loving my nail artist so much that I've been going back every other week since. I made a new friend and a new way to pamper myself.
If you're struggling with a gift idea, I hope something in here got you thinking. Because, as they say, it truly is the thought that counts, and you're running out of time to think–there's only 12 more days until Christmas!
What is one of the most thoughtful gifts you've ever received?
What is one of your favorite gifts you've ever given someone?
What are you hoping Santa will bring you this year?
This post linked to the GRAND Social.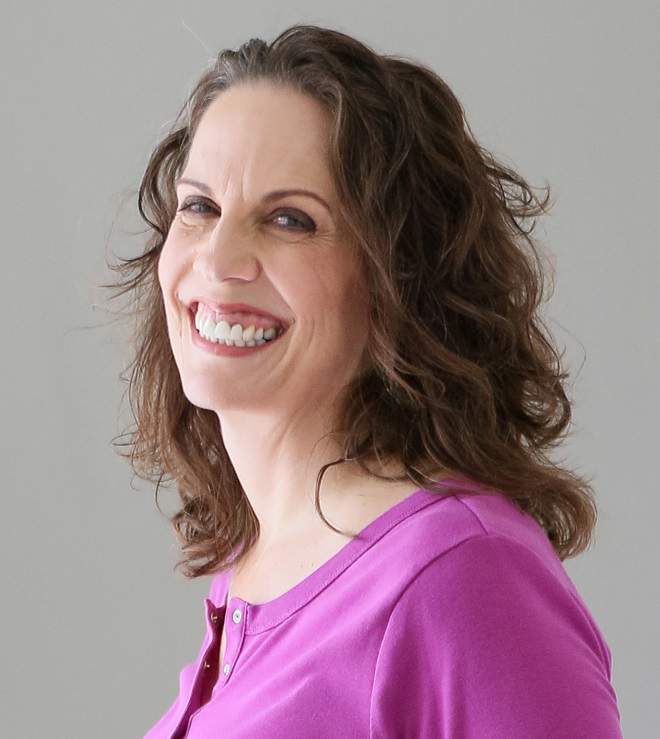 Christie is an author and professional communicator who blogs about life transitions, wellness, mindfulness, and anything else that answers the question "So what? Now what?"