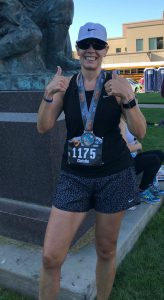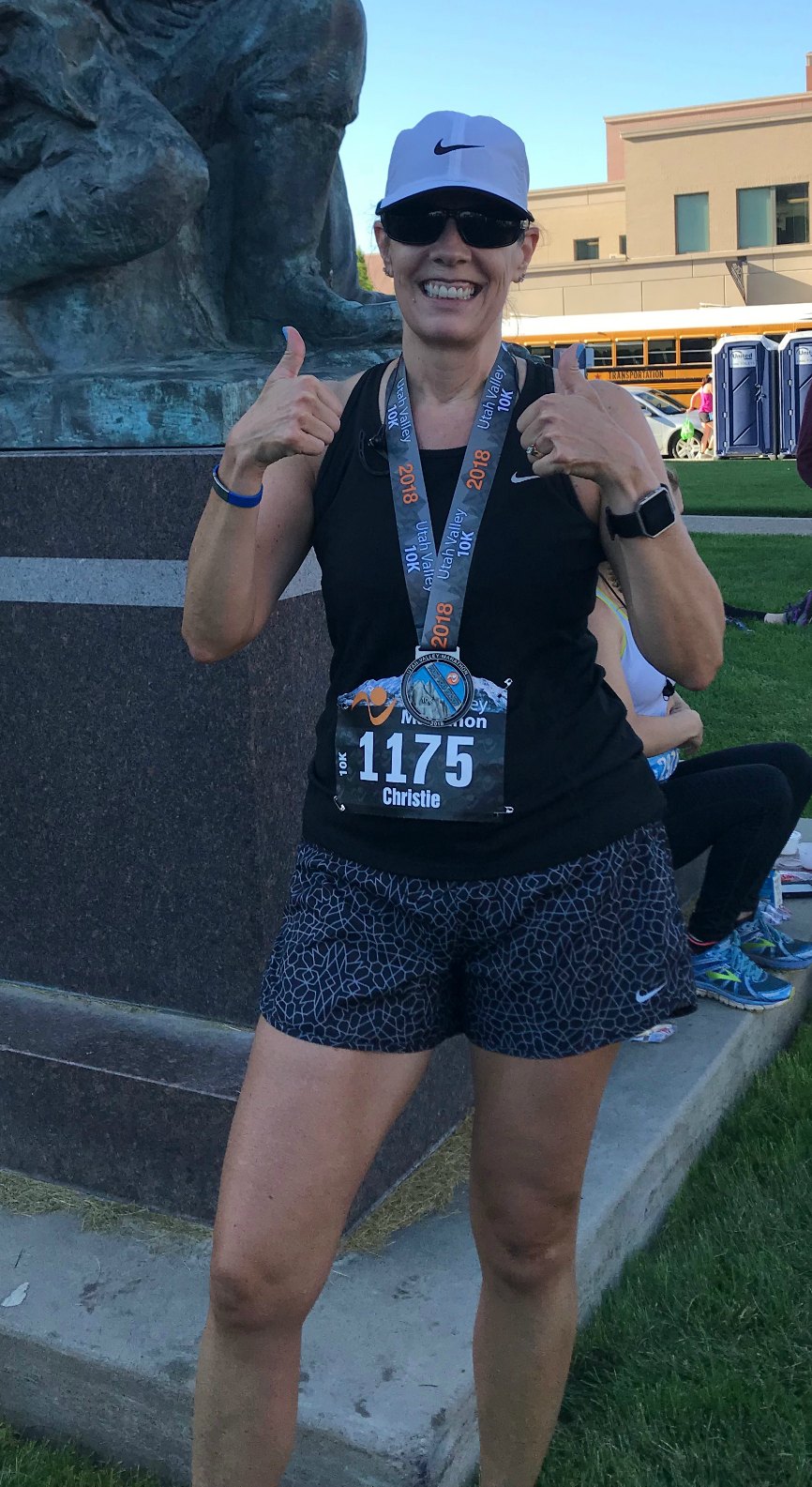 Another race in the books! This year I chose to repeat the Utah Valley 10k. It is a well-run race on a gentle downhill slope with beautiful finisher medals—just my style. However, unlike previous years, I was not training, or planning to run, with anyone else. I missed having a fellow racer to check in with during training and to cheer each other on. However, my dear husband was a trooper, as always, going along with me as my own personal support team and cheerleader.
Another difference this year: I typically take at least a half day off work the day before the race, so we can travel to the location, pick up packets, eat out (pasta of course), and get back to the hotel in time to put our feet up and eagerly anticipate race day. This year, since Larry was going with me and our dog requires heart medicine in the evening, and since the race city is less than an hour away from our home, we decided to eat at home, give the dog his nightly medicine, and then head out. The menu was much the same, since I fixed spaghetti, but it felt a little sad, like it was somehow less of a celebration.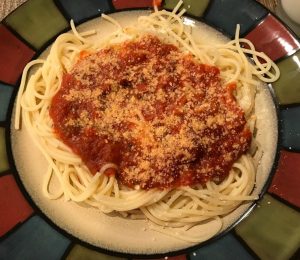 That mood didn't last long, though. As soon as we arrived at the convention center and picked up the packet, my spirits lifted, and I was raring to go. (At the time of this photo, I was not an actual finisher, as the backdrop claims, but taking advantage of visualization to make it happen!)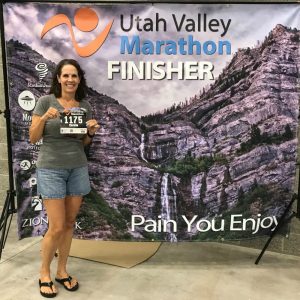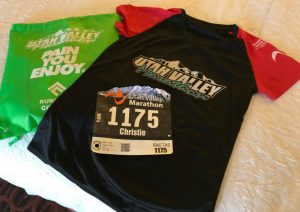 Next we checked into the Hampton Inn—same hotel as last year. It's a small hotel, nothing fancy, but clean and very friendly. All the basics are covered—comfortable beds, a television, a coffee pot, free WiFi, and a complimentary breakfast. Oh and warm cookies at check-in!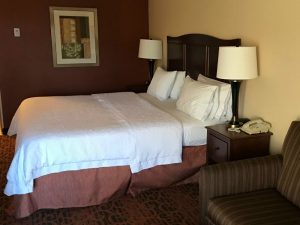 It was lights out for me by 9:30 p.m. Larry couldn't sleep that early, so after 30 minutes of television watching in the room, he thoughtfully wandered down to the lobby for a late-night snack and to watch TV down there, just to be sure he wasn't keeping me up.
Of course, I wasn't sleeping much. I never do the night before a race. I wasn't feeling nervous, so it must be the adrenaline. Anyway, I've learned to make sure I get a good night's sleep two nights before race day in anticipation of a lack of sleep the night before. In any case, I was already awake when the alarm went off at 5:00 a.m. and was happy to get up and get going. I had my usual greek yogurt, banana, and coffee as a pre-race meal.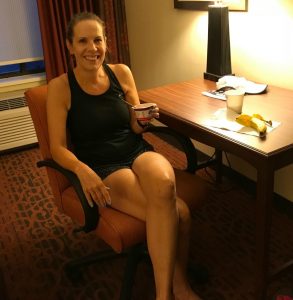 The bus pick-up point was close to the hotel, and Larry dropped me off just in time to climb on the bus. Like everything else about this race, the bussing system was great, and we arrived at the starting point in plenty of time to get through the porta-potty line and warm up, but not so early that I got restless (or nervous) waiting for the start. I love that this race always starts right on time. At 7 a.m. sharp, the whistle blew, and we were off.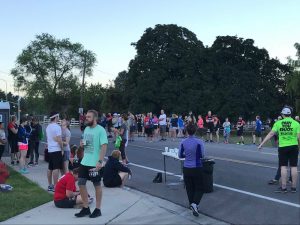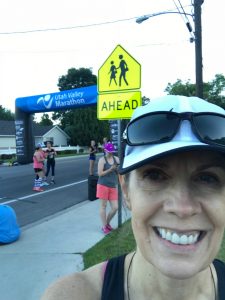 The first little portion was slightly uphill, but less than a mile in, we turned the corner for a brief steep downhill, and from there, it was five miles of gentle downhill. My kind of running. In fact, I usually walk about 1/10 of every mile, but I was feeling good enough that I ran for the first three miles before taking a walk break. After that, I walked briefly at each aid station. I prefer drinking water during a race (no sports drinks for me). I did eat a few sports beans just before the race and half way through.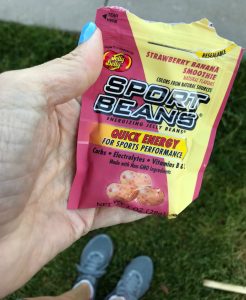 Mile four was the toughest, but I got my second wind and felt pretty good again for miles five and six. No muscle cramps, no side aches, and no mental fatigue like I have sometimes experienced. The weather, by the way, was perfect. We started at about 60 degrees Fahrenheit and finished up in the mid-60s. It was sunny and dry with a slight breeze. The finish line came up almost before I knew it, and I heard the beautiful sound of my name being announced over the loudspeaker and then Larry's voice calling congratulations.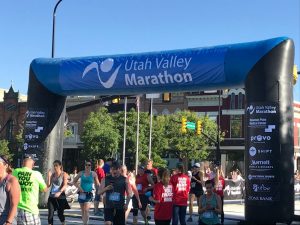 As far as results, my stated goal was to run under 12-minute miles, but I really wanted to at least match last year's time (10'39".) Mission accomplished.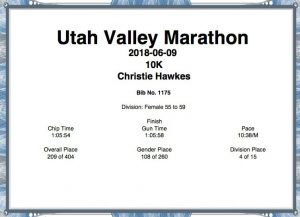 My average pace was 10'38." I was comfortably in the middle overall and in the top half of finishers for my gender. I was fourth of 15 in my age group. If I had shaved 23 seconds off my time, I would have received an age group award! Still I am pleased with my time and the joyful experience I had on race day. Time to start planning for next year!
Your turn
What's something challenging you've accomplished recently?
What do you do to motivate yourself when the going gets tough?
If you're a runner, what is your favorite race so far?
This post shared on the GRAND Social.
Follow my blog with Bloglovin.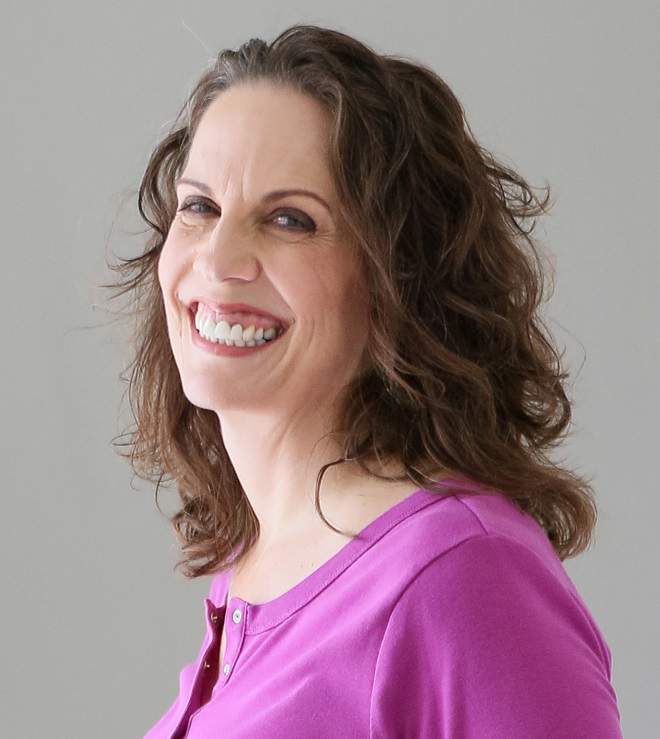 Christie is an author and professional communicator who blogs about life transitions, wellness, mindfulness, and anything else that answers the question "So what? Now what?"