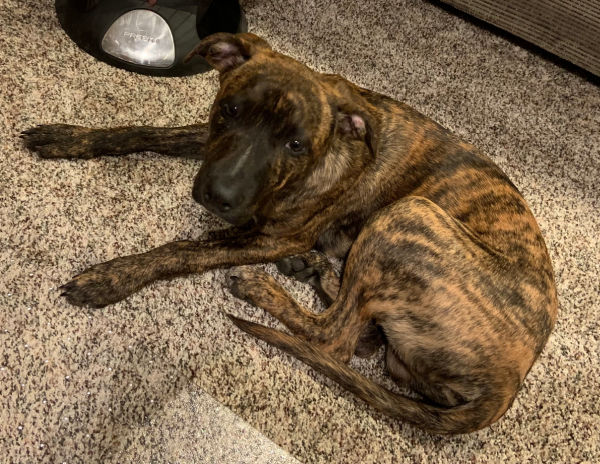 I am pleased to introduce the newest member of our family…drumroll please…meet Buddy!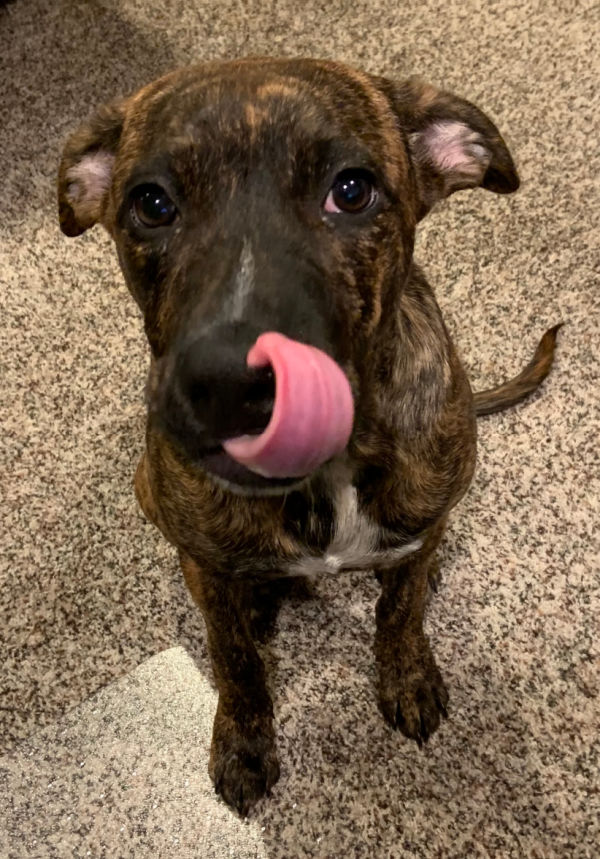 This was our first time adopting an animal. It was a new experience, made even more unusual by the need to social distance. In case any of you are considering adopting from a shelter for the first time, I thought sharing my experience might help you know what to expect when adopting a dog…or any other animal, I imagine.
Once we started to feel the yearning for a furry friend and spent some time contemplating the pros and cons of taking on the responsibility of bringing a dog into our home, we decided we'd really like to rescue this time…offer our loving care to a dog that needed a permanent family.
When we got Charlie…15 years ago…he was a gift for my husband. I researched breeds and decided a Cavalier King Charles Spaniel was a good fit for our household. I looked at shelters, but there were no Cavaliers available in the area, so I moved on to breeders. That's where I found…and fell in love with…Charlie. He was a loving companion…and we were devoted caregivers…for nearly 15 years. I do not regret my decision.
However, this time around, we were determined to rescue. We started by downloading the Petfinder app. Petfinder is an online, searchable database of animals from nearly 11,000 shelters and adoption organizations across the United States, Canada, and Mexico. In their own words, "From the comfort of their personal computers, pet lovers can search for a pet that best matches their needs. They can then reference a shelter's web page and discover what services it offers. Petfinder also includes discussion forums, a pet-care resource directory and a library of free pet-care articles to help keep pets in their homes."
You can filter your search by type of animal (dog, cat, etc.), location, breed, age, size, gender, behavior, coat length, and/or color. We were looking for a young medium-sized dog, preferably house-trained, within 100 miles. We received numerous results, which included photos, brief histories, and information on how to apply with the shelter seeking to find a home for that particular dog.
We ended up applying to three different shelters. The first dog that seemed like he might be a good fit was at PAWS. We filled out a lengthy application about our living circumstances, our home environment, and our experience with pet ownership. The very next day, I received a text message that the dog we enquired about had already found a new home. Good for him…disappointing for us.
The next dog we were drawn to happened to be at a different shelter, requiring a new application with similar but different questions. We never did hear back from them. Eventually, we saw on Petfinder that the dog was no longer available, presumably also adopted by another family.
All of this led us to Buddy. Once we saw his adorable face, we were smitten. Buddy was described as an American Staffordshire Terrier Mix, less than a year old, house and crate trained, and very loving…sometimes thinking of himself as a lap dog. He had survived parvovirus and the isolation that comes with that, was fully recovered, but needed some help building confidence.
Of course, it was a different shelter from the previous attempts, so we completed another online application, this time with Celestial Zoo Pet Rescue. We didn't hear anything for a couple of days, and then I got a text. Were we still interested in Buddy? Of course, we were. So the shelter volunteer put us in touch with Buddy's foster mom.
Because of COVID-19, we were not able to have an in-person meet and greet. Instead, we met through FaceTime. We were able to ask questions about her experience with Buddy, whom she had been fostering for about two weeks, and she followed him around with the camera, so we could see him in action.
With a successful meeting between potential adopters (us) and foster mom, the next step was a virtual home inspection. Using FaceTime again, I walked a shelter employee (or perhaps volunteer) through each room of our house and then into the yard, walking the fence line to reassure her that there were no escape routes and showing her the latches on the gates. She assured us we had passed inspection and would be hearing from the owner shortly.
The next day, we got the message…we had been approved! We could adopt Buddy! Just one complication…by then it was the day before Christmas Eve. It wouldn't be possible to finalize the adoption and transfer custody before Christmas. The day after Christmas, Larry and I were headed out of town. Luckily, Buddy's wonderful foster mom was not anxious to see him go and agreed to foster him for two more weeks.
During the two weeks that we were out of town, we kept in touch with Buddy's foster mom, and she was kind enough to send us pictures. Without having ever met in person, we were already in love.
Finally the day arrived to make things official. We met at a local PetSmart (not a bad move on their part…picture new pet shopping sprees). Anyway…we met the shelter owner first and completed a contract wherein we agreed to keep Buddy safe and well cared for, not to sell him or give him away (like we ever would!). They warranted that Buddy was healthy and had been vaccinated and microchipped and would be neutered by their approved veterinary hospital as soon as an appointment was available. We paid a $100 deposit, and we were now Buddy's foster-to-adopt parents. (Once the neutering is complete, we will pay the balance of $200, which includes the vaccination, microchipping, and neutering costs, and Buddy will be ours permanently.)
Just as we finished the paperwork, Buddy arrived with his foster family. He was even cuter…and bigger…than his photos. He was a little hesitant at first…and if I'm honest, more interested in the cats that were there for an adoption event than us people. He did let us pet him and was more than happy to display his sit and shake talents…for a treat of course.
It was pure joy, until the time came for Buddy's foster family to leave. I was naively unprepared for how hard that would be. As they left the store, Buddy tried to follow. When that wasn't allowed, he cried…and I do mean cried. It was heartbreaking. Any plans we had for a shopping spree (luckily we already had the basics) were quickly abandoned. As soon as the previous foster family left the parking lot, we followed and took Buddy home.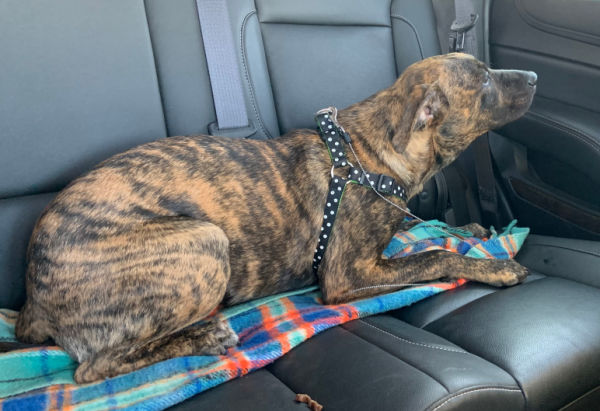 Upon arriving at our home, he was nervous and occasionally whimpered, but he was also curious and did some exploring. He stayed close to us…his new humans. We were only too happy to stay close to him. Surprisingly, he slept through the night…well until 4:30 the next morning…in his own bed next to ours.
That was three days ago. Each day he becomes more confident. He will use the doggy door without prompting, happily eats his food and plays with his toys, and curls up next to me while I work.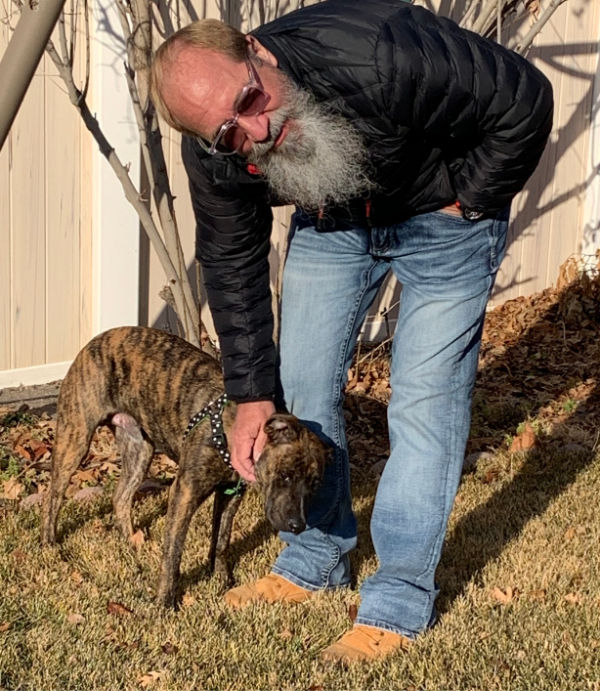 He does have some separation anxiety. If I dare go in a room and shut the door, he sits outside said door and whines until I come back out. Then he's happy again.
And he's a quick learner! As I mentioned, he already knew sit and shake when he came to us. In the past day, he's learned stay. We'll work on come and heel next, so that we can explore the world together in safety.
In these few days, he's stolen our hearts…and I think he is on his way to trusting enough to give his heart to us.
Your turn
What kind of animal was your first pet and what was his or her name?
Do you have a funny animal story?
What else is on our mind? Anything at all, I just love to hear from you.
Follow my blog with Bloglovin.
This post linked to the Grand Social and Bloggers Pit Stop.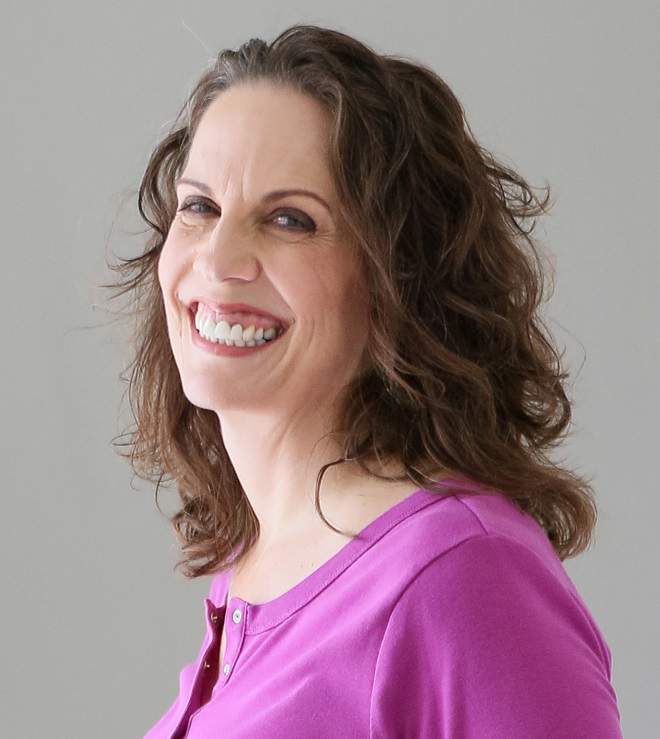 Christie is an author and professional communicator who blogs about life transitions, wellness, mindfulness, and anything else that answers the question "So what? Now what?"