When my children were young, I cooked a lot; nothing fancy, but pretty much every night. Now the kids are grown, and my husband, who works from home, is kind enough to prepare dinner most nights. This allows me to put in a full day's work, work out, and still have dinner at a reasonable hour, with time left over to relax with said husband.
Recently, due to Larry's surgery, I've had the opportunity to fix a couple of dinners myself. And guess what I remembered? I like cooking. It allows me to feel productive and nurturing and reap immediate rewards—usually within an hour or less. Sometimes it's even a creative outlet. And when Larry and I cook together, it's bonding time.
Once I'm retired, I definitely want to cook more—both the old tried and true favorites and new, experimental recipes. In the meantime, I've found a great option that allows me and Larry to cook meals together without the time and effort that goes into researching recipes and shopping for strange ingredients (usually spices I've never heard of), the bulk of which are never used again and sit aging in the cupboard until I discover them years later and toss them.
Now, a couple of times a month, we order Prepped! meals from Winder Dairy. The recipe and all of the ingredients, including seasonings–pre-measured in the required amounts–are delivered to our porch in a refrigerated bag. No fuss, no waste.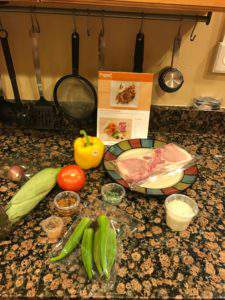 This week, while Larry was recovering, I cooked Southern Pork Chops and Sage Rice. The preparation time is printed on each recipe. This one was estimated at 40 minutes, which was pretty accurate.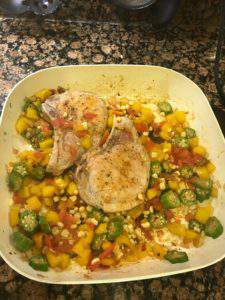 The final result was delicious, and we expanded our horizons, trying okra for the first time. We liked it.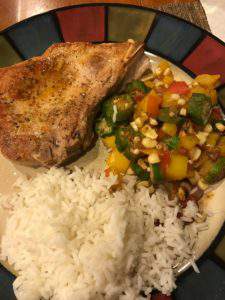 About Prepped! The meals are $20 for two people. You order two meals at a time for a total of $40. Most meals we've tried could easily feed three people, though this one was just right for the two of us. Each week, Winder Dairy offers two omnivore meals and two vegetarian meals. You may choose one bundle or the other—or none at all. There's no contract or minimum number of orders, but there's also no option to order meals outside the bundles offered for that week or to break up a bundle and only order one meal. For us, that's turned out to be a good thing, as it has forced us out of our comfort zone to try things we normally wouldn't. So far, Larry and I have been very happy with all the meals we've ordered, and we'll definitely buy more. (By the way, Winder Dairy didn't pay me to say all these nice things!)
******
What did you eat for dinner this week that was especially good?
Have you ever tried any prepped-type meals? If so, which brand? And did you like them?
Do you like to cook? What is your favorite thing to cook?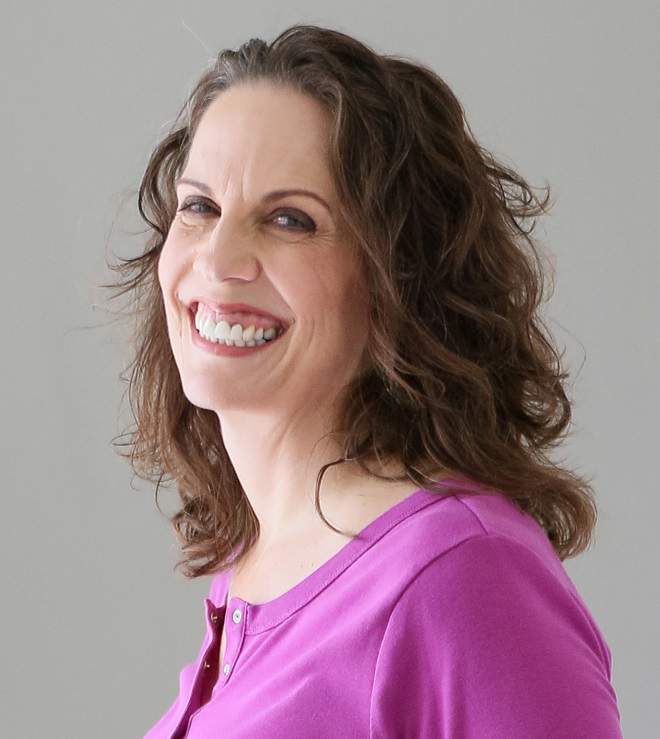 Christie is an author and professional communicator who blogs about life transitions, wellness, mindfulness, and anything else that answers the question "So what? Now what?"