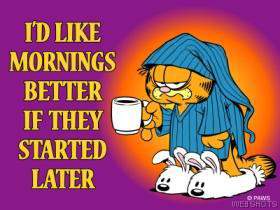 I am not a morning person. The alarm clock and I are not friends. This Irving Berlin song that my mom used to sing to us children in the mornings just about sums it up:
Oh! how I hate to get up in the morning,
Oh! how I'd love to remain in bed;
For the hardest blow of all, is to hear the bugler call;
You've got to get up, you've got to get up, you've got to get up this morning!
This morning, it's possible I may have even cried a little when that *&!#! alarm went off. I literally had to give myself a pep talk just to get out of bed. It went something like this: "Remember, you felt the same way yesterday, but you got up, you got ready, and you felt better. You can do this. Today is a wonderful day!" Unconvinced, I dragged myself from bed.
On a typical day, it takes me through my shower, my meditation, and my first cup of coffee to shake the depression and supreme irritation at everything. Heaven help the poor soul who occasionally crosses my path—and who actually dares speak to me—before then! Luckily (for everyone involved), I am typically the only person up for the first 90 minutes of the work day.
Gradually, as I'm eating my breakfast, sipping my coffee, and writing (usually this blog), the world rights itself. I become a more rational—even pleasant—human being. I don't know if it's the caffeine, the food, the writing, or merely the passage of time; but whatever it is, my brain and body come together and say, "We got this!"
I just wish I could get there a little quicker…wake up with that excitement I had as a child, wondering what the new day would bring. I've tried to figure it out. Why do I wake up in a literal depression most workday mornings? I don't feel that way on the weekends when I can sleep in a bit, especially if I wake up naturally without an alarm.
That leads me to wonder if the problem is I'm not getting enough sleep. I have made great strides in the last couple of years. I now spend a minimum of seven hours per night sleeping. Or trying to. Subtract the 15 minutes it takes to fall asleep and the 10-15 minutes spent waking up to throw the blankets off, to pull the blankets back up, or to go to the bathroom, and we're left with 6-1/2 hours sleep. Still, not bad.
Looking at the evidence—depression on work mornings, none on weekends—the cause could be having to go to work. But the truth is, I like my job. I like the people I work with; most days I feel good about the work I accomplish; the environment is comfortable. Okay, it's not childlike enthusiasm for another day, but it's not depressing either.
Maybe it's the alarm clock itself—the sudden jarring wakeup. I have it set to radio, so at least it's music and not that blaring beep beep, but still. Maybe there's a more gentle sound that could ease me into wakefulness. Perhaps that would start the day on a better note.
I'm not sure, but I could use your help. Are you a morning person? Have you always been, or did you discover a way to make mornings more tolerable?
This post linked to the GRAND Social.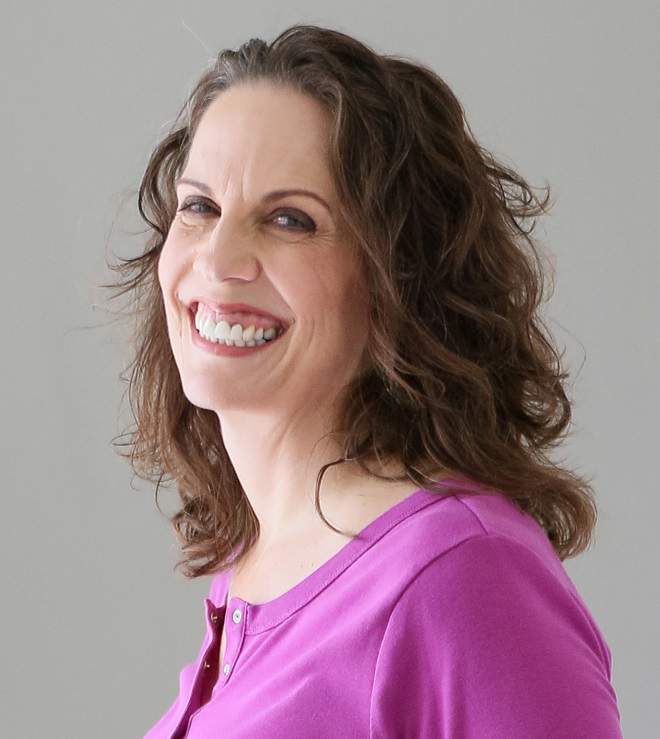 Christie is an author and professional communicator who blogs about life transitions, wellness, mindfulness, and anything else that answers the question "So what? Now what?"