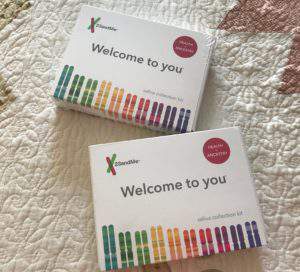 Little girls may be made of sugar and spice and everything nice, but when I wanted to know what this grown-up girl is made of–literally–I ordered a DNA kit from 23andMe. In today's post I'll tell you about my experience with a home DNA test.
I started by reading reviews of the two most popular kits, 23andMe and AncestryDNA. After reading Fit Bottomed Girls Guide to DNA Kits, I was sold on the health and trait reports provided with 23andMe.
Larry decided to play along with me, so I ordered two tests. The first one was $199, and we got a discount on the second one, making it $179.10. We ordered the kits on July 15 and they were in our post office box by July 21.
The test is easy to take. Go one hour without eating or drinking anything. (This was hardest part for me!) Then simply spit into a saliva collection tube until you reach the fill line. The tube looks small enough in your hand, but I confess it took some effort to generate that much saliva. Once it's full, just seal the tube, put it in the specimen bag, and mail it back in the pre-paid box–all part of the kit.
Then we settled in to wait. The 23andMe website warned us it could take six to eight weeks to analyze our specimens. So I was pleased when less than four weeks later, I received an email that our reports were ready.
I was curious to see whether the DNA results would support what I knew of my genealogy–and it did! My ancestors are primarily from England and Scotland and some from Germany and Denmark.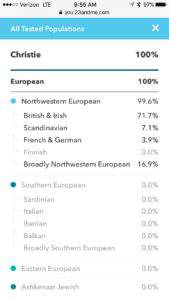 As an added bonus, I learned I have 294 Neanderthal variants (more than 74 percent of 23andMe's customers). I guess that means you may feel free to call me a Neanderthal!
I learned I am genetically predisposed to weigh more than average (boo!), less likely to sleep deeply (sad, but true), and I share a variant in muscle composition with elite power athletes (surprise!). Information is provided on a total of eight wellness factors and 16 traits (such as the likelihood of having dimples, a cleft chin, curly hair, and other things like that).
I also received information regarding genetic variants that may increase my risk of developing certain health conditions. You have the option to decline this information if you'd rather not know. I decided to get all results. If they looked good, great. If not, I would have the information to share with doctors and family members. As it turned out, I had single variants that could slightly increase my risk for late-onset Alzheimers and hereditary thrombophilia (a predisposition to developing harmful blood clots). Since I only have one variant in each string, the threat is minimal, but I now know to take lifestyle precautions so as not to add to the risk.
All in all, it was an enlightening and entertaining experience. If you're curious about your genetic make-up, I would definitely recommend 23andMe.
***Your turn***
Have you taken a DNA test? Which one? Any surprises?
Have you done your genealogy? Where are your ancestors from?
If you said yes to both, did the genealogical research and the DNA results line up?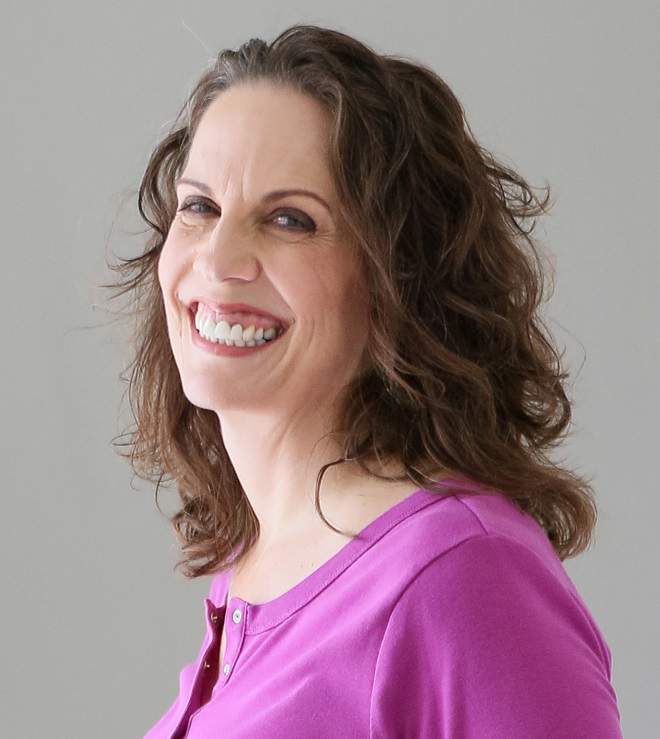 Christie is an author and professional communicator who blogs about life transitions, wellness, mindfulness, and anything else that answers the question "So what? Now what?"