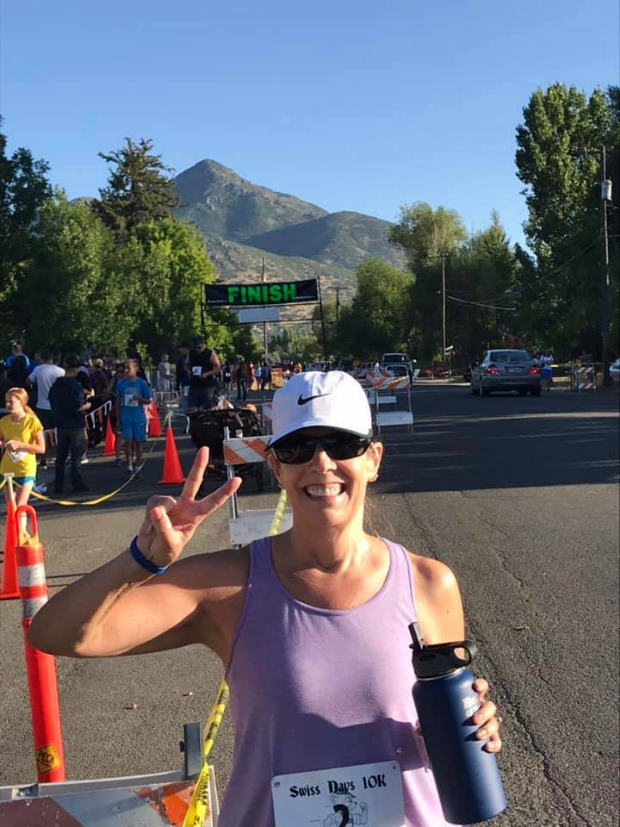 Another race in the books! This year I chose a race I haven't done before, the Swiss Days 10K in Midway, Utah. It's a smaller race (256 total participants) with participant ribbons instead of medals. On the plus side, it takes place later in the summer, so I was able to push training out until after our family trip to Mexico, and it is close to Hawkes Landing, so we were able to make a cabin weekend out of the event.
I was a little worried about the terrain. The race starts out with an uphill stretch of more than two miles—not my favorite—and Midway is at an elevation of 5,584 feet, which doesn't make running any easier. Of course, being the serious (not) runner that I am, I didn't switch up my training at all to compensate for these challenges. I just adjusted my goal for the race to be anything under 12 minute miles and to not collapse in the fetal position somewhere along the route.
Thursday evening, Larry and I headed up to Hawkes Landing and got settled in, so I could have my traditional rest day before the race. I worked on a jigsaw puzzle,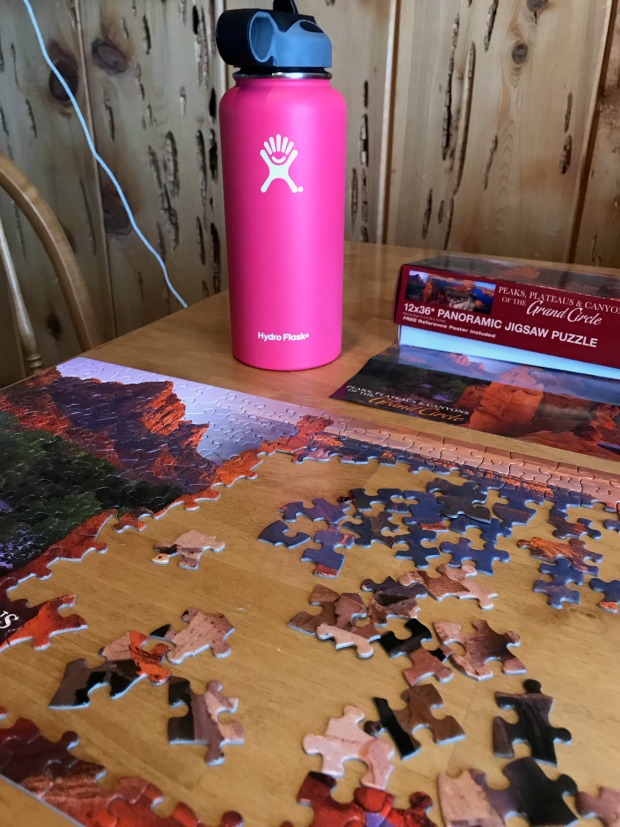 played Yahtzee with Larry,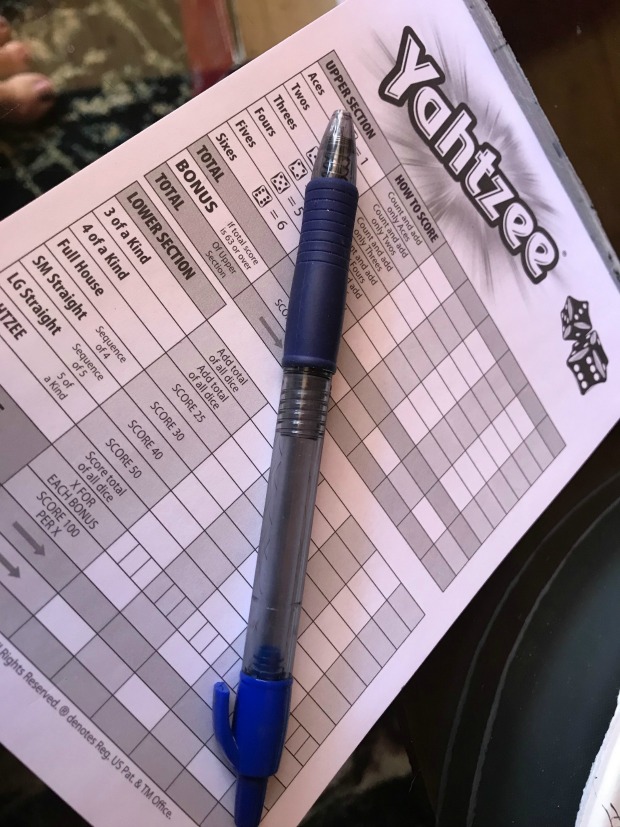 sat out on the deck admiring the view,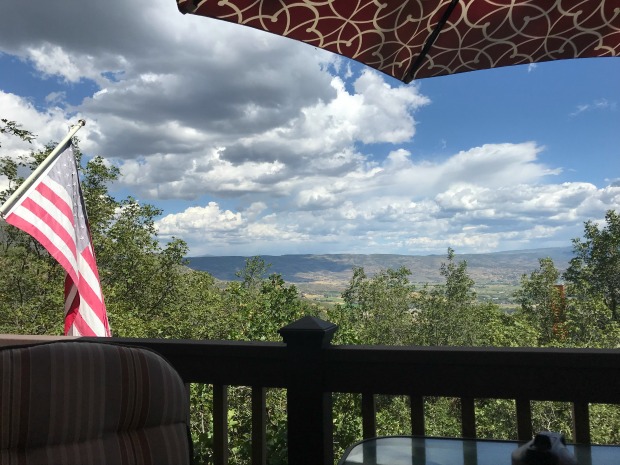 and generally laid back with my feet up. There was no packet pick up the night before, so we never even left Hawkes Landing.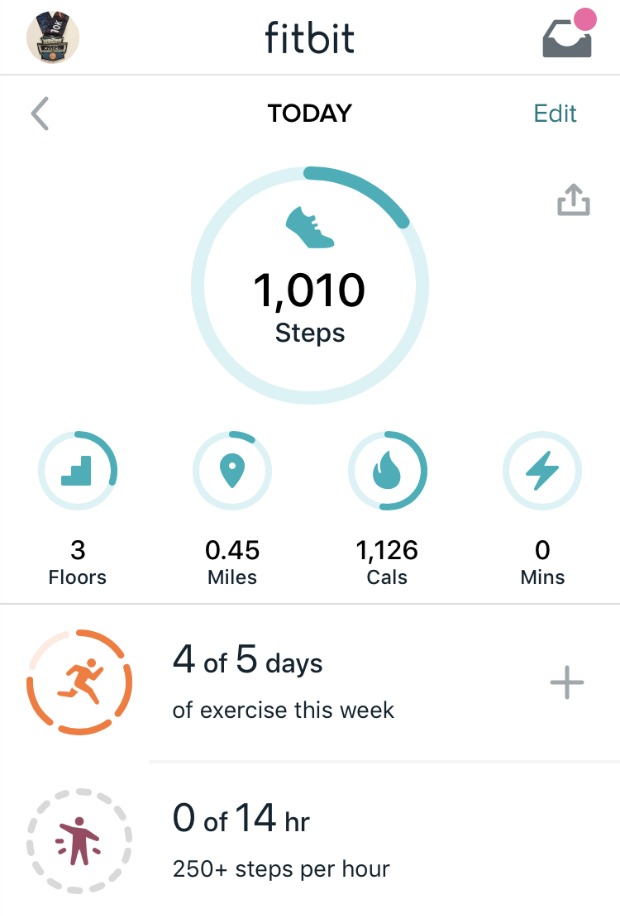 I did, of course, have my pre-race meal of spaghetti and Swedish fish. I'm pretty sure those sweet little fish have magic powers.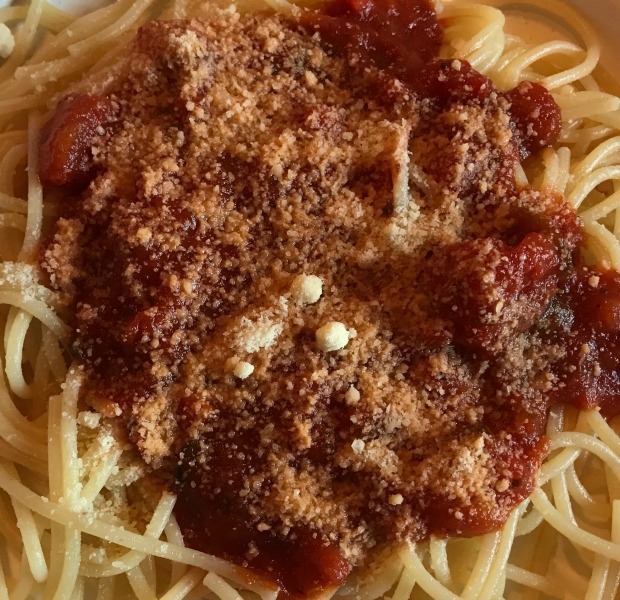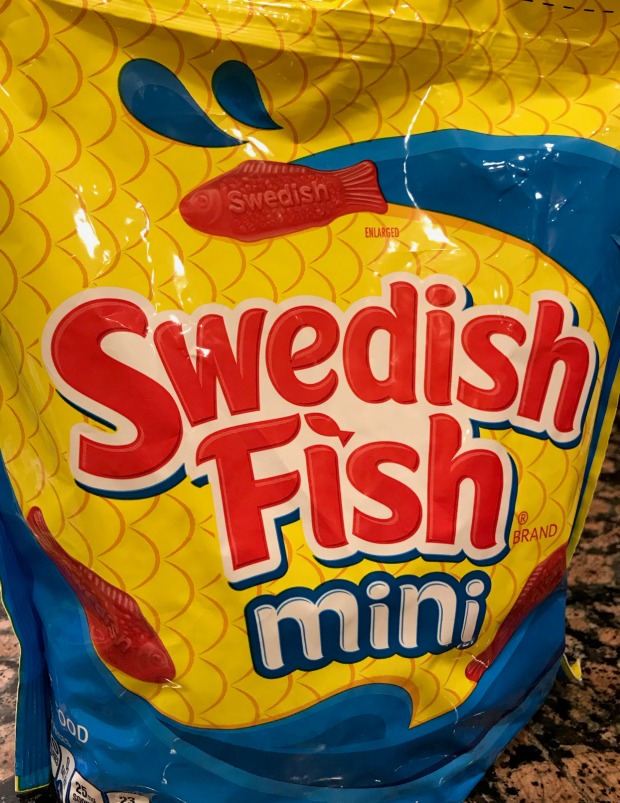 Then it was 9:30 lights out. I didn't sleep much. I never do the night before a race. I wasn't feeling nervous, but there was lots of adrenaline. Anyway, I've learned to make sure I get a good night's sleep two nights before race day in anticipation of a lack of sleep the night before. In any case, I was already awake when the alarm went off at 5:05 a.m. and was happy to get up and get going. I had my usual greek yogurt, banana, and coffee as a pre-race meal.
There was no need for a bus for this race. Larry drove us straight to the starting point. We were lucky to find a close parking spot and arrived in plenty of time to pick up my racing bib (#2) and use the porta-potty. There wasn't even a line—another benefit of a smaller race.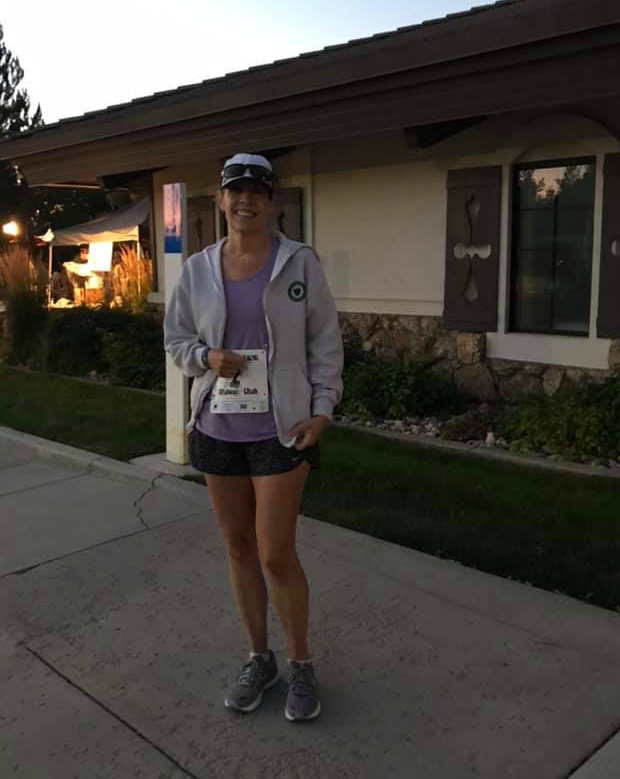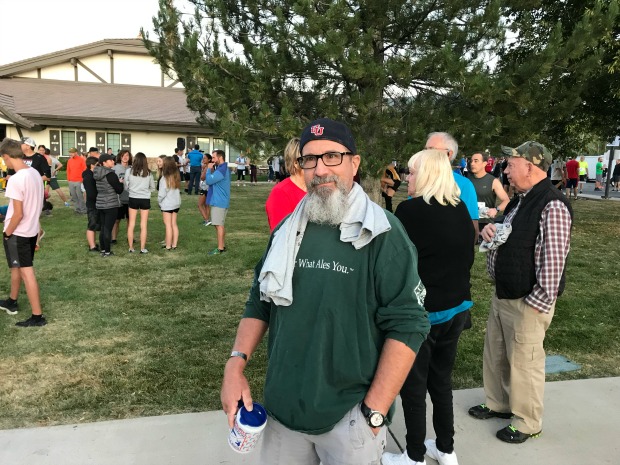 I wasn't sure what to expect as far as organization goes with a small community race like this, but the whistle blew at 7.am. sharp, and we were off.
The first mile was only a slight incline, and with the adrenaline rush, I ran at a 10'46" pace. Then the dreaded two miles straight uphill got me and I walked a good portion (12'56" and 12'20"). From there, it was gentle downhill with some short stretches of level or slight uphill. I settled in right around 11'30". Because I had walked so much during the first couple of miles, and I was feeling good on the downhill portion, I didn't take my usual walk breaks every mile.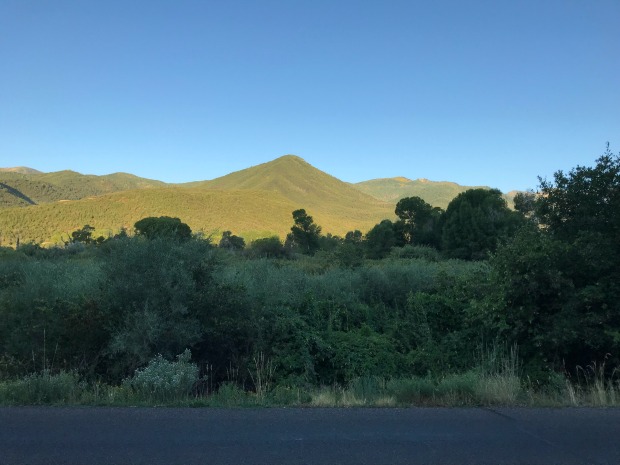 Overall, I felt good. No muscle cramps, no side aches, and no mental fatigue like I have sometimes experienced. The weather was perfect. We started at about 53 degrees Fahrenheit and finished up in the low 60s. It was sunny and dry with a slight breeze. The scenery was beautiful, and the finish line came up almost before I knew it.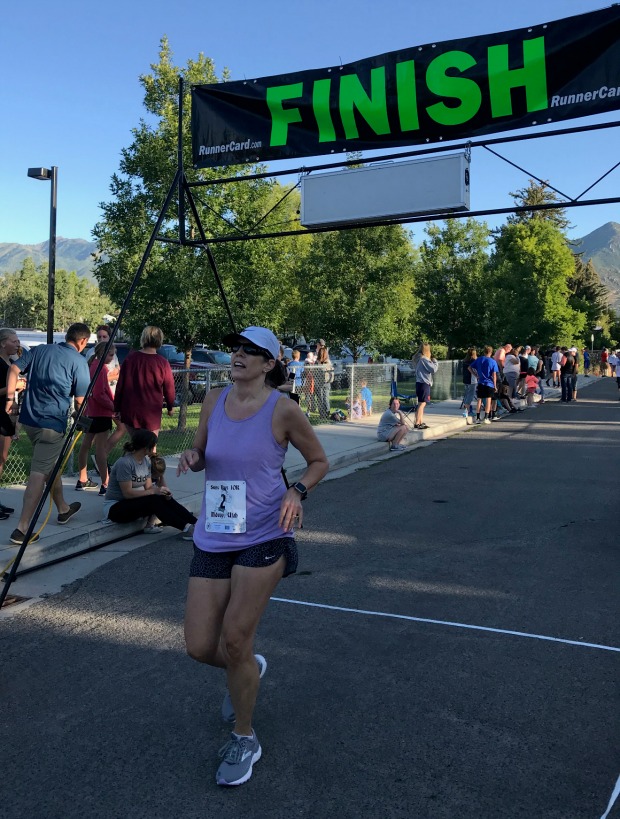 As far as results, my goal was to run under 12-minute miles. Mission accomplished. My average pace was 11'26". I was in the top half of finishers for my age group—barely (6 of 12). This race gives awards for the top five finishers in each age group, so once again, I was one place out of the awards.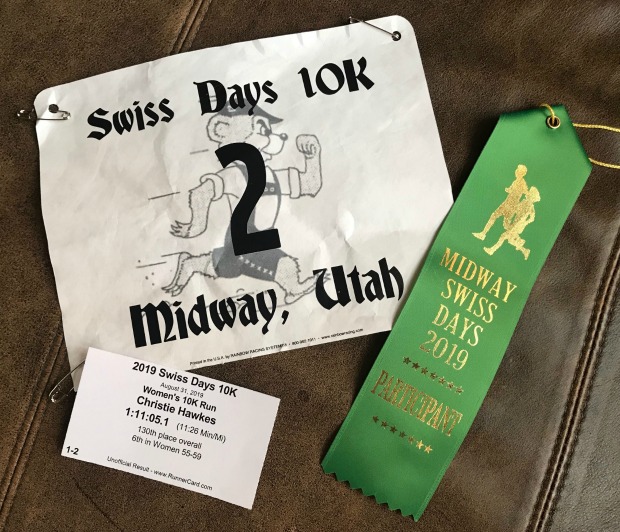 Still I am pleased with my time and the joyful experience I had on race day. Time to start planning for next year!
Your turn
What did you do this weekend?
Are you working on a fitness goal?
Do you have recommendations for next year's 10K?
What's on your mind?
Follow my blog with Bloglovin.
Shared on GRAND Social and #MLSTL.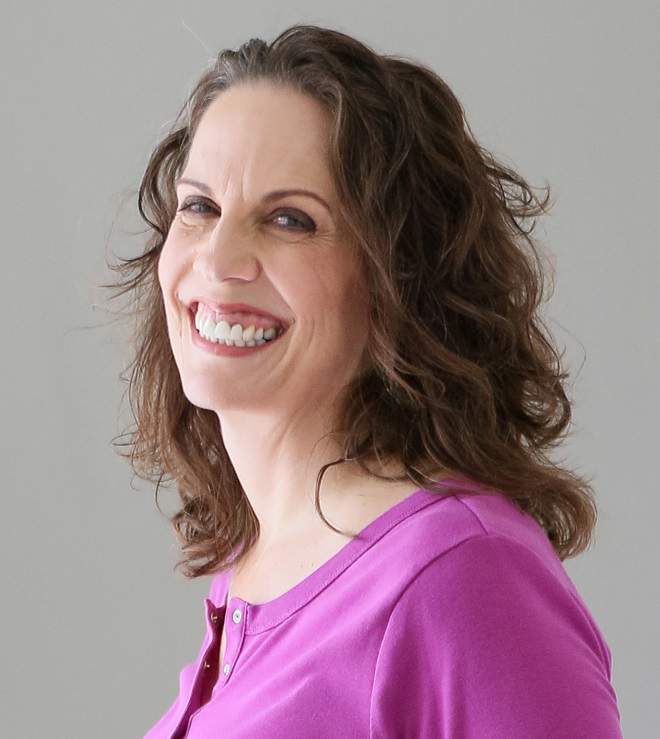 Christie is an author and professional communicator who blogs about life transitions, wellness, mindfulness, and anything else that answers the question "So what? Now what?"