Give a girl the right shoes, and she can conquer the world." — Marilyn Monroe
This past Saturday was the annual Girls on the Run 5k celebration. The GOTR 5k is so much more than a race—it is truly a celebration of the girls—their strengths and accomplishments—and the people who love and support them.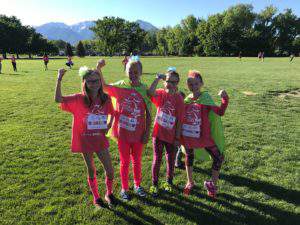 My involvement with GOTR began four years ago as a volunteer running buddy.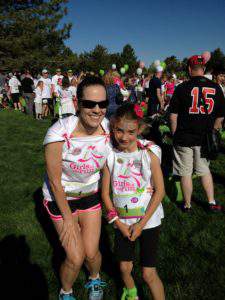 I was looking for an opportunity to volunteer where I could make a difference in the lives of young girls, but something that wouldn't take too much time away from my own grandchildren (all 10 of them!). When I stumbled upon an opportunity that also involved running, I knew I'd found the perfect fit.
Girls on the Run is a nonprofit organization dedicated to creating a world where every girl knows and activates her limitless potential and is free to boldly pursue her dreams. GOTR inspires girls to be joyful, healthy and confident using a fun, experience-based curriculum which creatively integrates running.
GOTR was exactly the type of organization I wanted to be involved with, and they were looking for volunteer running buddies. After reading this description, I was sold:
Be the inspiration to a young girl and help her cross the finish line of a non-competitive 5K. The job of a running buddy is to be by a girl's side for this fun and exciting experience. That means running or walking at her pace, encouraging her to do her best, but also recognizing and respecting her limits. Your commitment is to run twice with your Buddy, once at the practice run (which is usually 2-3 weeks before the race, at the girl's school) and the day of the main 5K race celebration.
I registered for the race, passed a background check, and chose a school in my area. GOTR assigned me to a third grade girl who needed a running buddy. I met her for the first time on the day of the practice race. Each of the girls introduced their running buddies ("This is my aunt…This is my mom…). When it was my partner's turn, she said, "This is my new friend, Christie." My heart melted, and I knew it was a perfect match.
I loved the experience and volunteered for the next two years. Then in 2016, one of my granddaughters joined the program and asked me to be her running buddy. Of course, I said yes! (Side note: it poured rain that year. This photo is blurred by the rain on the lens.)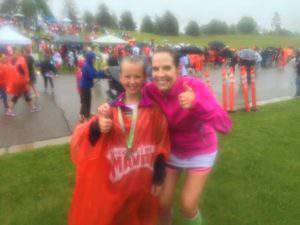 This year, two granddaughters (sisters) participated. Their mother and I were going to be the running buddies, but when mom fractured her foot a week before the race, I got two running buddies.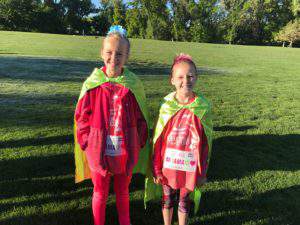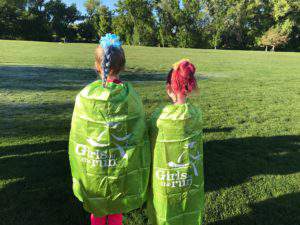 They did a fantastic job, and I couldn't be more proud of them or pleased that they invited me to run with them.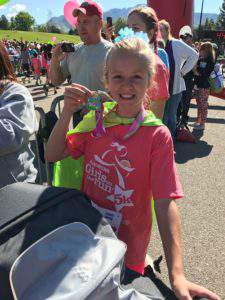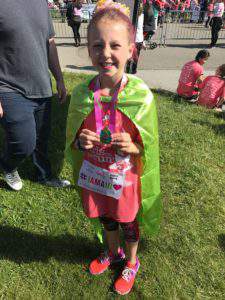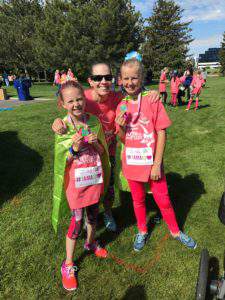 So, if you are looking for a worthy cause in which to participate, I'd highly recommend that you check out GOTR. In addition to running buddies, they use volunteer coaches and team ambassadors (training provided). And don't be intimidated that you have to be a super runner—most of the volunteers are not.
More about GOTR: At Girls on the Run we inspire girls to recognize their inner strength and celebrate what makes them one of a kind. Trained coaches lead small teams through our research-based 10-week curricula which includes dynamic discussions, activities and running games. Girls also make a meaningful contribution to their community through a team-organized Community Impact Project. Physical activity is woven into the program to inspire an appreciation for fitness and healthy habits and teach life skills including treating others with care, practicing gratitude and managing emotions. Each season culminates with a Girls on the Run 5k event. This celebratory, non-competitive event provides girls with a sense of accomplishment and instills the value of goal setting at a young age.
My coach said I ran like a girl, I said if he could run a little faster he could too" ― Mia Hamm
Do you do volunteer work? What organization?
Have you run a 5k? When and where was your last one?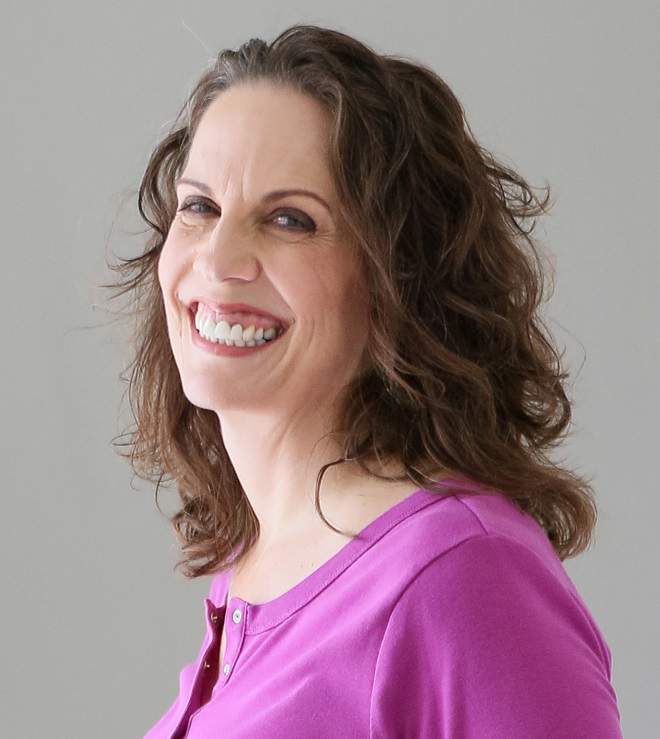 Christie is an author and professional communicator who blogs about life transitions, wellness, mindfulness, and anything else that answers the question "So what? Now what?"