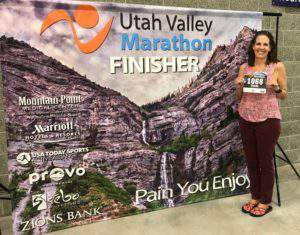 Another race in the books—this time the Utah Valley 10K with my sister, Cindy. It was her first big race, so that made it extra special. I can't wait to tell you all about it, so let's get started.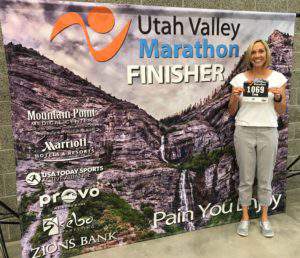 Friday afternoon, Cindy picked me up and we headed south to Provo (about 38 miles from where we live). It was the middle of the afternoon, but traffic was already horrible, leading me to ask, "Where are all these people going? Doesn't anybody have to be at work?" We made it safely to the Hampton Inn, though.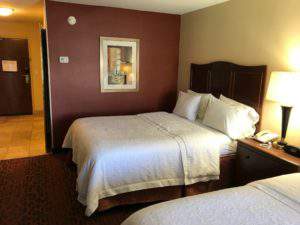 It's a smaller hotel, nothing fancy, but clean and very friendly. All the basics are covered—comfortable beds, a television (which we did not use), a coffee pot (which we did use), and free wifi. In case you're interested, they also have a small indoor pool and complimentary breakfast.
As soon as we checked in and unloaded our bags, we were off to the convention center to get our race packets. This year Utah Valley Marathon is celebrating its 10th anniversary, so instead of shirts, they gave out jackets, which I am very happy about.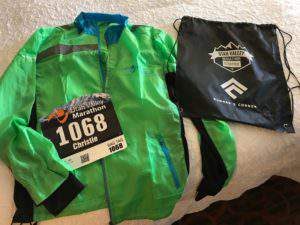 From there, we located the bus pick-up point and reviewed the route and aid station information in the literature provided (no surprises for us on race morning). Then we were off to dinner and the all-important carb loading. We ate at California Pizza Kitchen and were not disappointed. We split the chicken tequila fettuccine and shrimp scampi zucchini. Delicious! (I got talking with Cindy and completely forgot about taking photos of my pre-race meal, so you get the official CPK menu photos.)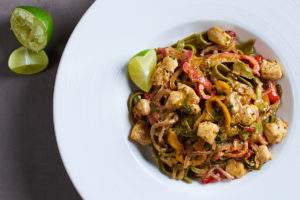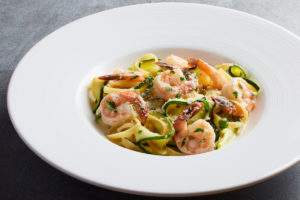 After dinner, we went straight back to the hotel and put our feet up. We read for awhile and were in bed with the lights out by about 9:45.
The alarm went off at 4:45 a.m., but I don't think either of us were really sleeping at that point. I never sleep well the night before a race. (Tip: Make sure you get plenty of rest two nights before race day.)
I had my usual greek yogurt, banana, and coffee. Cindy had a peanut butter and jelly sandwich. And we were out the door.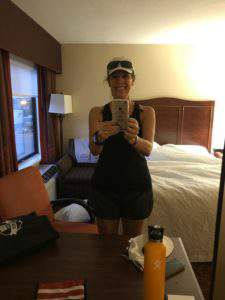 The bus pick-up point was close to the hotel, but there were so many cars already there that we had to park a fair distance away. I joked to Cindy, we were almost back at the hotel. Any way, we made it. The bussing system was great, and we arrived at the starting point in plenty of time. We had half an hour to get through the porta-potty line and warm up. I love that this race always starts right on time. No standing around checking your watch. At 7 a.m. sharp, the whistle blew, and we were off.
The first little portion is uphill, and my body was not happy about starting that way, but before long, we turned the corner, and it was all downhill (literally) from there, but not steep, just a gentle slope. My kind of running. In fact, I usually walk about 1/10 of every mile, but I was just hitting my stride after one mile, so I kept going. After that, I walked briefly at each aid station. I prefer drinking water during a race (no sports drinks). I did eat a few sports beans half way through.
The weather, by the way, was perfect. We started in mid-50s and partly cloudy and finished up in the low 60s and sunshine. I felt good throughout the race. I was aware of my right calf tightening up a little in the last mile, but not enough to really hamper me. As I was closing in on the finish line, I heard "Christie Hawkes" over the loudspeaker. I love when they announce the finishers like that. It's just such a thrill.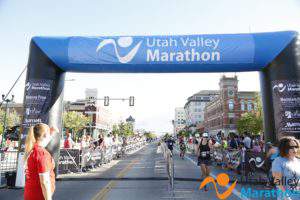 I collected my medal, grabbed an orange slice and some water, and was back at the finish line in time to cheer Cindy across. We celebrated together, cooled down, and fueled up.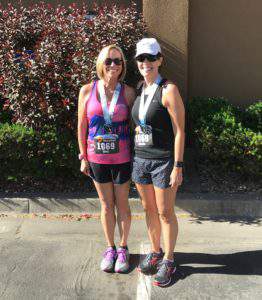 Then just before we were ready to leave—a special treat: Cindy spotted Janae (Hungry Runner Girl). We're both big fans, and Janae was so gracious to visit with us for a while and share in the celebration. Her sweet daughter was with her. She was a little less enthused with the attention, but so cute!
As far as results, I told myself I would be content with anything under 11-minute miles. Mission accomplished. My average pace was 10'39." I was comfortably in the top half of finishers for my gender, my age group, and the 10K overall, so I'm happy with that. Time to start thinking about next year. 😉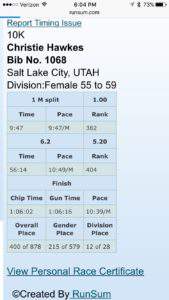 10K is definitely my favorite race length. What about you?
Do you have any races planned this year? Which ones?
What about a bucket list race; do you have one?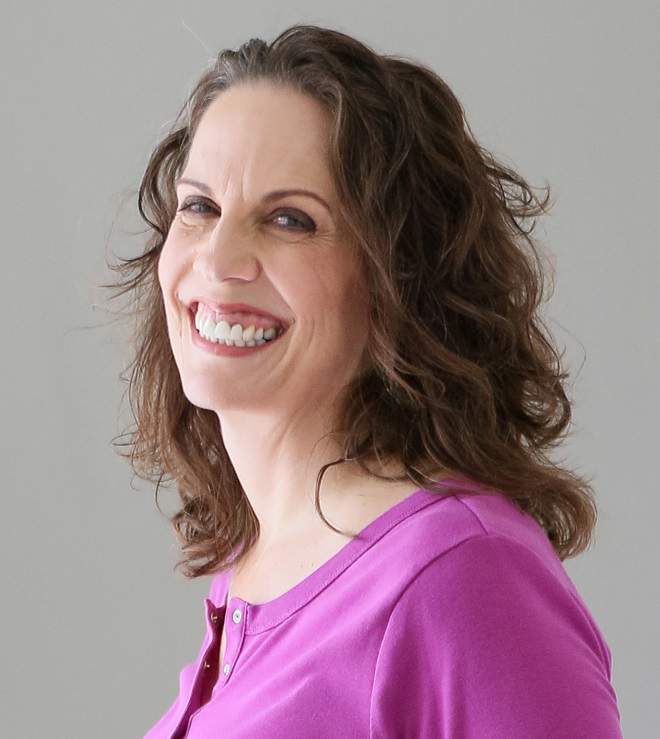 Christie is an author and professional communicator who blogs about life transitions, wellness, mindfulness, and anything else that answers the question "So what? Now what?"