Two months ago, I lamented on this blog that I was bored with my go-to exercise routines and wanted to mix things up. Three weeks later, I still hadn't done anything about it, so I put "Try a new workout" on my Fall Bucket List. It would be another six weeks before I accomplished that goal, but I finally did it! Today I share with you my experience with Orangetheory Fitness.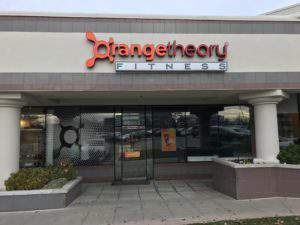 First, let me say, going in I was nervous. It's been so long since I've participated in a group fitness class, I was afraid I wouldn't be able to keep up and that I would look foolish (oh vanity!). I was also concerned that there would be a hard sell after my complimentary first class. I'm quite sure I wouldn't have followed through with this goal except that one of my coworkers had seen "Try a new workout" on my goal board and invited me to come along with her. I had accepted, and now I was committed. (The psychology of making your goals public works.)
The day of my class, I showed up 30 minutes early to complete some paperwork and receive a brief orientation to the studio and the program. The friendly, informative front-desk staff went a long way toward putting me at ease, and I liked the feel of the clean, spacious studio, which was complete with restrooms, a shower, and plenty of lockers. Still, peeking in the gym was a bit intimidating. (By the way, once the lights went up for the workout, the gym was bright and no longer bathed in orange.)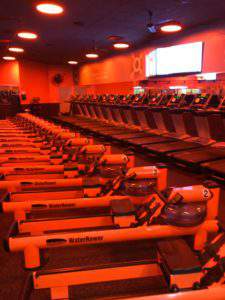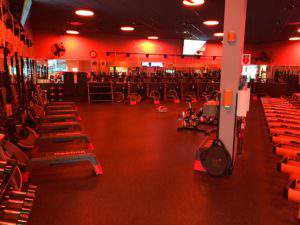 When the coach arrived, he asked about my fitness goals and my past experience with physical activity and then he walked me through the upcoming class and demonstrated the equipment. He assured me there was no need to be nervous, that I would be fine. I was given a heart rate monitor, and by the time the rest of the class participants began to arrive, I was ready to go.
Orangetheory is a high-intensity, heart-rate-based interval workout, featuring treadmills, rowing machines, and weight stations (suspension bands, free weights, a bench, and a Bosu ball). The group is split in groups of two or three (depending on the number in attendance). My class was a group of two; half started on the treadmills and the other half on the rowing machines. I started with the rowing group. Participants' heart rates are projected on a screen, so you know what range you are working in, when to push it and when to back off a little. That way everyone is working at an individually appropriate pace.
From the rowing machine, my group went to the weight stations, where the routine for the day was projected on a screen with videos demonstrating correct form. The coach also walked around the room offering encouragement and tips on form, as well as answering questions.
My group finished up on the treadmills, transitioning between base, push, and all-out pace according to instructions posted on the treadmill and called out by the coach. Don't worry if you are not a runner, power walkers control heart rate by adjusting the incline on the treadmill. While I do run, I'm not particularly comfortable with running on a treadmill, so I chose to follow the power walking routine and had no problem getting my heart rate in the "orange" range.
By the time the one-hour class ended, I was exhausted and exhilarated all at the same time. I loved the energy of the group and the upbeat music, accompanied by the professional coaching. After the class, the coach went over my heart-rate results with me, answered my questions about the workout, and then turned me over to the front-desk staff. I needn't have worried about a hardcore sale either. For one thing, I was so excited about the class, I wanted to sign up for more. They walked me through the options, and when I opted to start with the basic package (eight classes in one month for $99), they did not try to up-sell me.
By the time I got home, I had received an email summarizing the results of my workout (splat points are minutes spent in the orange or red zone):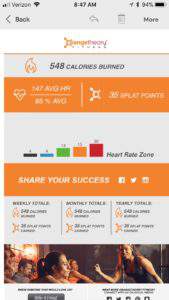 Orangetheory Fitness was just what I needed to get excited about exercise again and nudged me out of my comfort zone (physically and mentally) in a way that still felt safe. On the downside, it's more expensive than my city rec center membership, and it's not on my direct route home from work (as the rec center is). I'll complete the eight classes I've paid for and then decide how to proceed, but I'm definitely glad I tried it.
***Your turn***
Have you tried Orangetheory Fitness? If so, what did you think?
What is your favorite exercise routine or physical activity?
Follow my blog with Bloglovin.
This post linked to the Grand Social.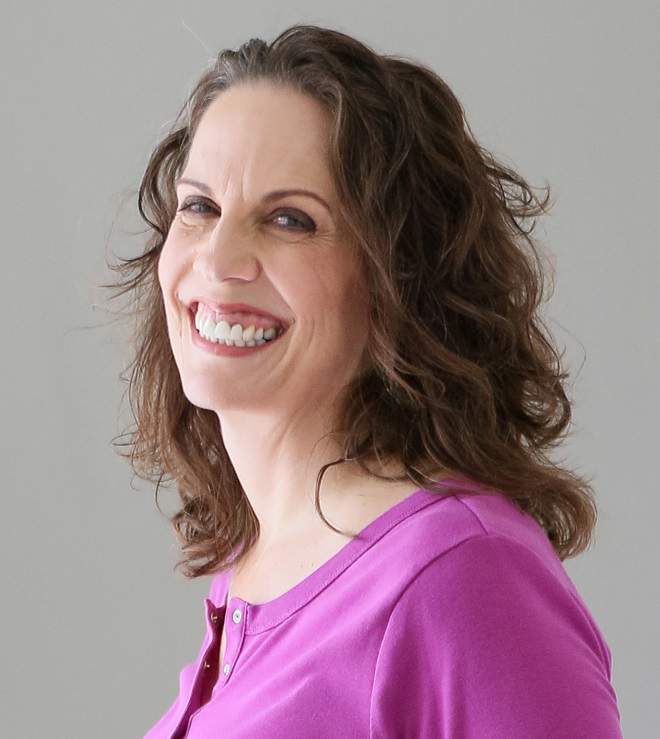 Christie is an author and professional communicator who blogs about life transitions, wellness, mindfulness, and anything else that answers the question "So what? Now what?"